Dream Order Campaign — Make a Wish that Brings Actual $$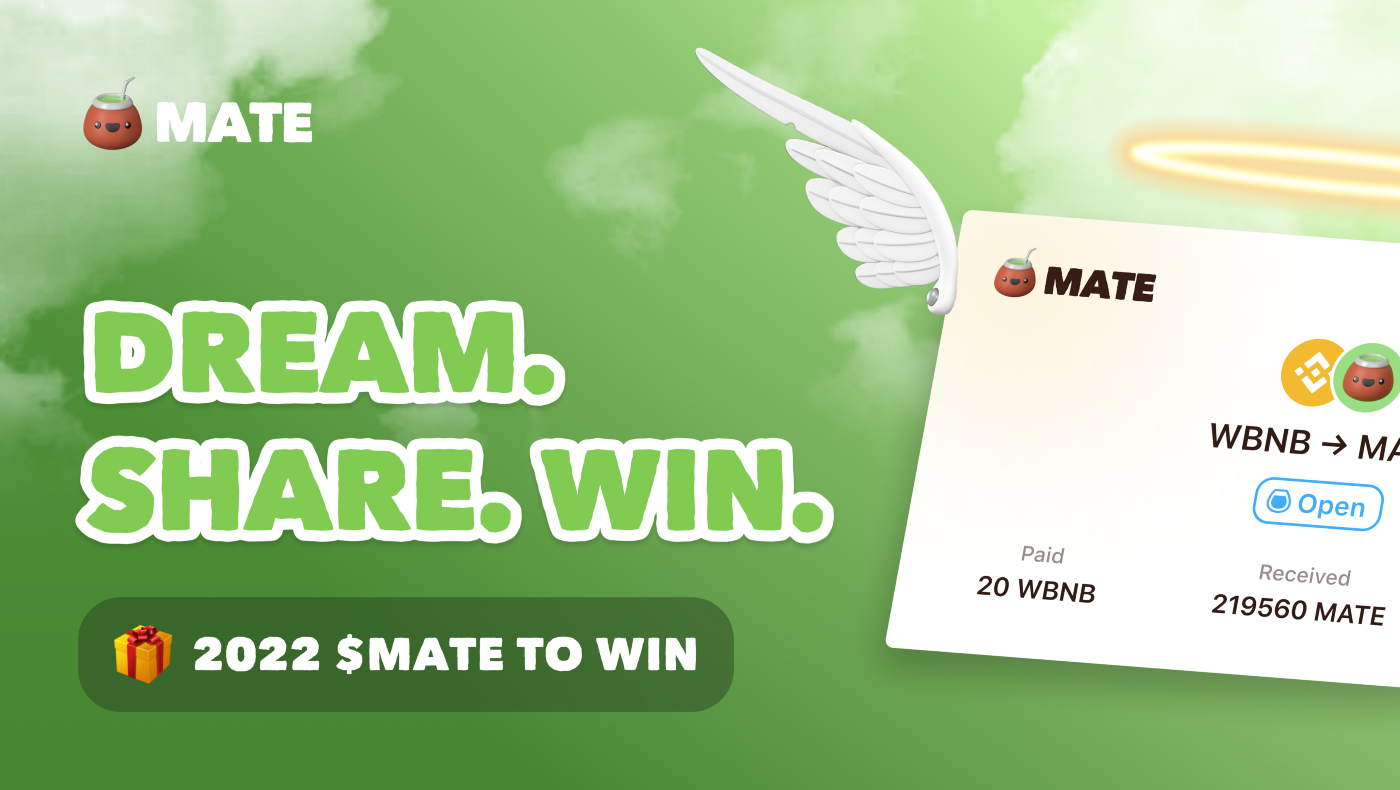 Happy new year tea masters! What were your new year wishes for 2022? At Mate, we wish all our tea masters great health, lots of happiness, and of course more fortune — and we are going to help you get that 🤑
What is Dream Order Campaign and all that?
Very simple, you place your dream order of your favourite coin (for example, catch the dip and buy 10,000 Mate at $0.04 — great choice by the way!) using Mate limit order, share it to Twitter through the Share Order Feature, that's it! The Mate nodes will work hard around the clock to make your wish come true, plus you will receive a New Year gift from us of up to 2,022 $MATE!

Okay just tell me, how do I participate?
First as mentioned above, you need to place your dream trade on Mate, then
Follow Mate Twitter (What, you haven't already?)
Share your trade (tutorial here) to Twitter and tag 2 friends + hashtag #MateMyWish
Optional: If you put (🧉, 🧉) in your Twitter name, you are guaranteed to receive 2022 $Mate
Wait for your wish to come true! Our gift for you is on the way ~

Every participant will get 300 $MATE, and 3 lucky tea masters will get 2,022 $MATE. If you put the (🧉, 🧉) in your Twitter name, you are guaranteed to receive 2,022 $MATE like the lucky ones. Make your wish now! Place your order before 11 January and let us do the rest! Don't forget to check out this tutorial if you are not sure how to share your order to Twitter.
Winners will be announced on 11 January, place your dream trade now and wait for the $MATE drop!
🧉 About Mate
MATE is a DEX that enables traders to maximize their trade returns through limit orders that guarantee trade execution without risking their assets via unpredictable slippage.