MATE: Why A Fair Launch & How To Participate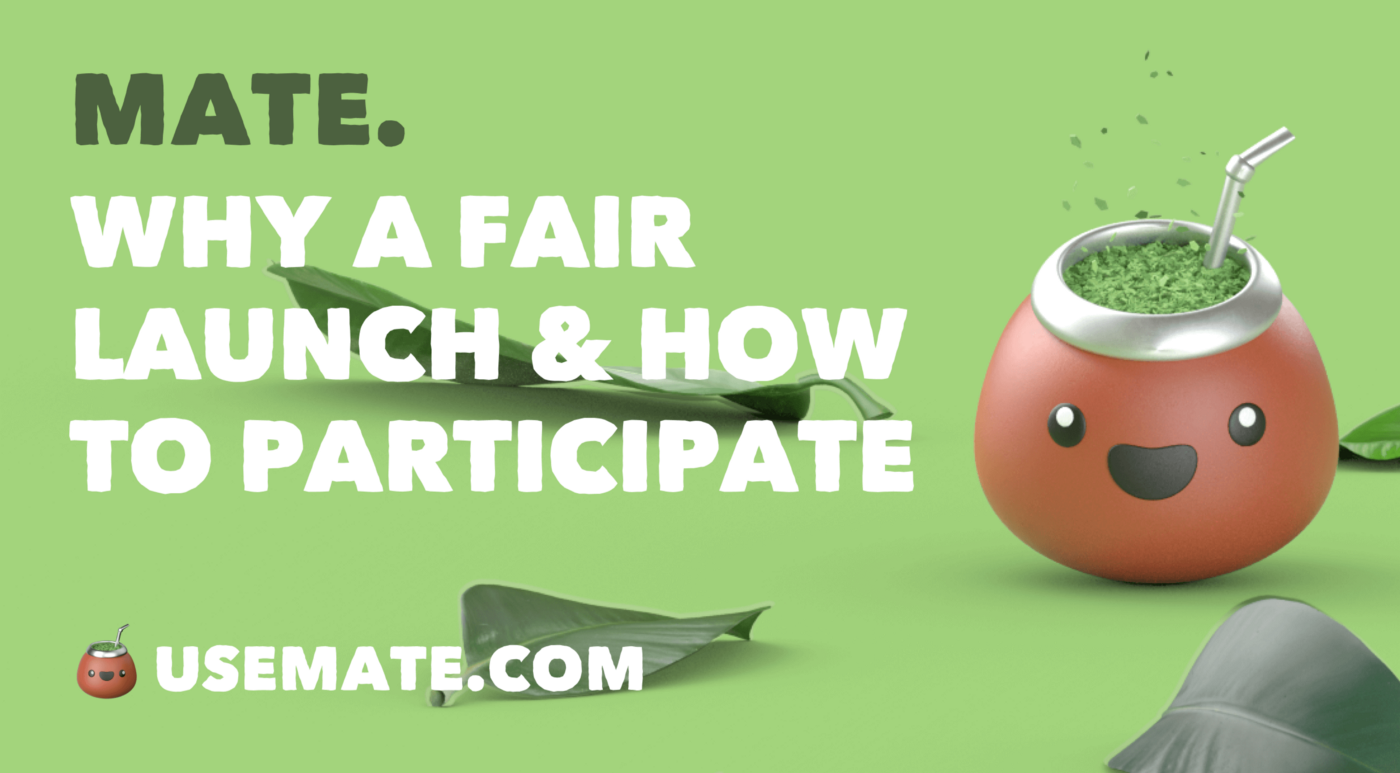 ICO's, presale, and private sales.
A well-known and beloved procedure with numerous names.
In the crypto world, there is almost always a presale before a token is released. In truth, these events are frequently used as a pretext to invite influencers, friends, and family members.
Because we aim to represent the actual spirit of decentralization, MATE is doing things a little differently.
Mate has no presale, no private investors, nor VCs. Mate won't have any IDO at launchpads. Initial $Mate distribution will be done through Liquidity Pool Farming with ORK-BNB / ORK-USDT & MATE-BNB / MATE-USDT farms.
Simultaneously with Farms launch, the token will be listed on PancakeSwap at 1 cent with 1 million total diluted market cap and only 2.8% of total supply in circulation at the end of the first week.
Fair Launch Process
The introduction of MATE will be completely fair. There will be no pre-sale or private sale. Liquidity Pool Farming with ORK-BNB / ORK-USDT & MATE-BNB / MATE-USDT is the only method to obtain $MATE tokens initially.
Orakuru holders will have exclusive access to the first $MATE tokens.
You can choose between staking in the $ORK or $MATE pool.
Liquidity Pool Farming (LPF) will be held in three phases.
●Phase I. Stake ORK-BNB / ORK-USDT & MATE-BNB / MATE-USDT to earn free $MATE.
At Phase 1, Mate will distribute fixed 2,8mil (2,8% of total supply) total between ORK & MATE LP farmers depending on their weight in the pool. At the same time, The $MATE token is launched on PancakeSwap, price discovery commences.
●Phase II. Stake ORK/BNB LP(X% APY), $MATE/BNB LP(2X% APY)
At the beginning of Phase 2, the Mate Core team will choose the precise amount of tokens to issue each week in order to strike a balance between a healthy APY for farmers and the volume of locked liquidity to keep inflation low and farming appealing to contributors.
●Phase III. APY will be significantly reduced in Phase 3 (6 weeks) to minimize excessive dilution while keeping liquidity providers sufficiently rewarded.
Different multiplicators apply to different farms. For example, if you stake MATE-BNB LP, you'll earn 1,5x Mate, but if you stake ORK-USDT, you'll only get 0,5x.
Phase I is intended to distribute $MATE tokens to early adopters in a fair way. MATE LP providers will earn a higher APY in Phase II, which will aid with the establishment of MATE's initial liquidity pool. Phase III will highlight MATE's progress as a project. MATE's first few months will contain single staking, a variety of farms, and governance, to name a few fascinating aspects.
MATE tokenomics:

100 Million $MATE hard cap.
60% of Mate (60,000,000 MATE) is allocated to liquidity pool mining and staking.
Tokens will be unlocked as a reward for providing liquidity or staking.
So how do you do it to join the MATE fair launch?
Follow the simple steps below.
1. Buy Orakuru
Step 1: Import contract address
Go to PancakeSwap by pressing this link: https://pancakeswap.finance/swap#/swap?outputCurrency=0xced0ce92f4bdc3c2201e255faf12f05cf8206da8
Contract address: 0xced0ce92f4bdc3c2201e255faf12f05cf8206da8


Copy the contract address and paste it in. Press "I understand" and "Import".
Step 2: Slippage and "Swap"

Enter the amount of money you wish to spend. Select "Swap" from the drop-down menu.
Step 3: Swap, confirm, and gas fees.


After hitting "Swap" and "Confirm," you'll need to set the necessary gas costs and accept the Metamask notice by pressing "Confirm."
2. How to provide liquidity:
Step 1: Go to Pancakeswap ORK-BNB or ORK-USDT pair: Click here
On the upper right of the webpage, click "+ Add Liquidity."
Step 2: "Approve" and "supply"
Input your contribution amount to the PancakeSwap LP. First click on approve ORK, to approve the transaction of your selected token (ORK) between Metamask and PancakeSwap. Then press "Supply".
Step 3: "Supply" and "Confirm"



After you have pressed "Supply", set the amount of the selected tokens you wish to contribute to the Uniswap ORK-BNB/USDT LP, in this case, "100" ORK is being pegged to 0.07 BNB based on the current price.
Click ''supply'' to proceed.
Check the data and click ''confirm supply'' to confirm the contribution to the LP.
Set the transaction fee and confirm the transaction.
After the transaction is completed, you will get a confirmation of your funds being sent/received. Well done! You have successfully contributed liquidity to the ORK-BNB/USDT PancakeSwap LP.
In exchange for liquidity, you will receive ORK-BNB/USDT LP tokens that reflect the liquidity you contributed. You should be able to search the Bscscan contract addresses for these LP tokens. Each liquidity pool pair produces its own LP token. By doing all this, you have received the ORK-BNB/USDT pair and can successfully participate in the fair launch.

Official Mate Links: