How To Stake and Farm $MATE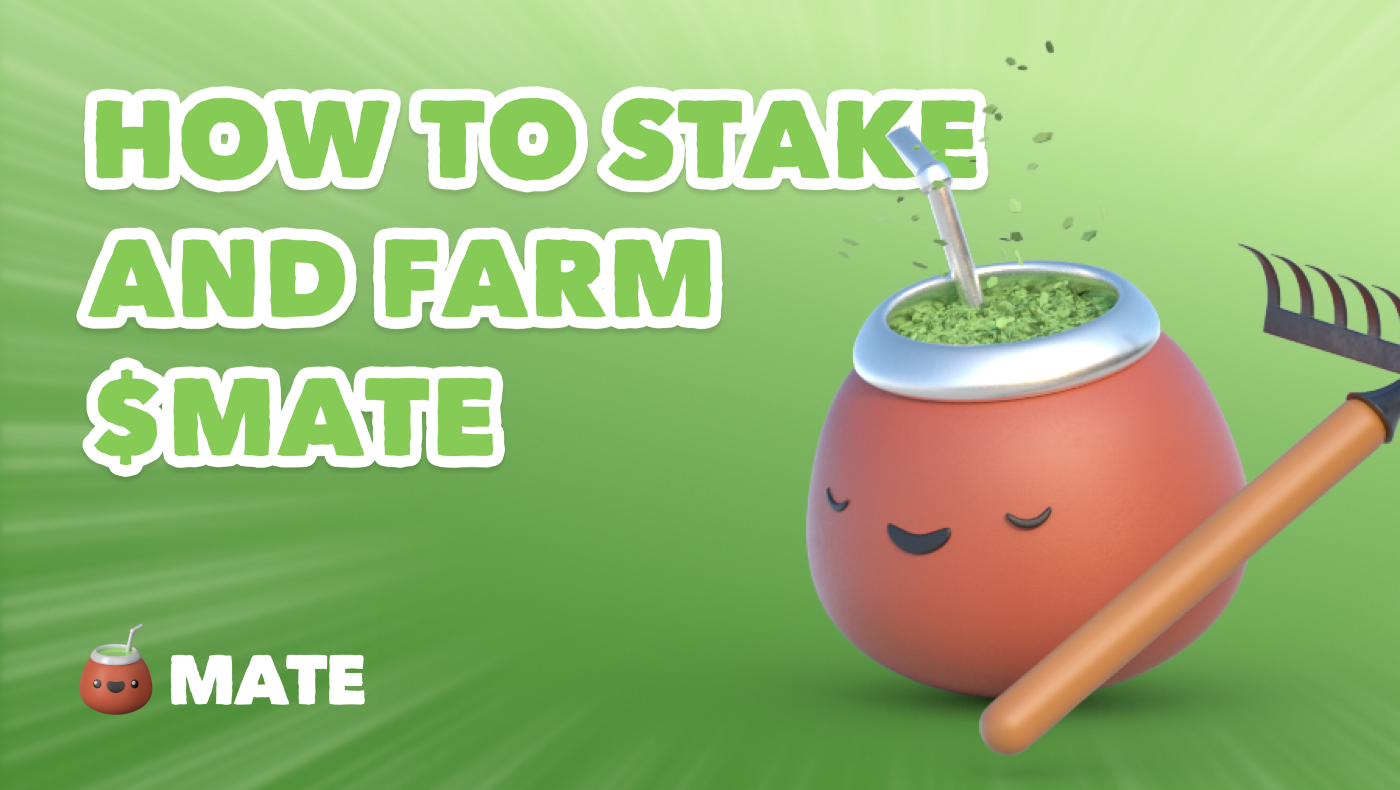 Mate makes it easy to participate in the DeFi economy and get rewarded for your effort. To newbies, staking and farming can seem daunting, and clunky UIs don't help. Don't let initial doubts keep you from exploring the space. Brew yourself some thé and learn the Mate way.
Staking Your $MATE
xMate staking is achieved by locking up your $MATE tokens in a vault and in return you earn rewards from staking. When you stake your $MATE in our single asset vaults (SAV), you receive xMATE plus extra $MATE. The extra $MATE reward you get for staking is derived from our platform's trading fees.
Every limit order placed on our platform is charged a 0.2% fee, of which 0.05% is used to buy back $MATE and add it to the xMATE pool. The size of your xMATE reward depends on how much $MATE you staked.
By staking your $MATE tokens, you're buying up a share of the xMATE pool. Because xMATE appreciates in value compared to MATE, the amount of xMATE tokens received per MATE decreases over time. So, the sooner you start staking $MATE, the bigger your rewards will be! Keep reading for a step-by-step guide on how to stake and farm $MATE today.
Launch the Mate app, then find "Staking" in the left column. Enter the amount you wish to stake.

The staking details will appear below the Staking box. Click "STAKE".

Next, you'll have to confirm the transaction on your wallet to finalize it. Click "Confirm" on the first MetaMask notification to give your wallet permission to access your $MATE and click "Confirm" again to finalize your stake.

Once the transaction is processed you'll be able to see your $MATE in your xMATE balance in the Staking cell. Simply hit the "+" next to xMATE to add xMATE to your wallet.

Changed your mind? Don't worry, you can unstake your xMATE at any point. Here's how to do it.
How to Unstake xMATE
When you unstake xMATE, you get back your original $MATE deposit and a little extra thanks from trading fees. Click "UNSTAKE" in the Staking cell to begin the process.

Enter the desired amount of xMATE you wish to unstake or click "Max" to unstake the full amount. The details of unstaking are displayed below the Staking cell.

Click the gold "UNSTAKE" button to get more details on the specific transaction.

At this point, you should see a pop-up from MetaMask asking you to confirm the transaction. Hit "Confirm" to finish the process.
You can double-check the results of your unstaking in the Staking cell by viewing your $MATE and xMATE balance.
Next, we'll show you how to farm your $MATE to earn more rewards. Get excited!
How to Farm $MATE
Farming involves users adding funds to liquidity pools and earning rewards for acting as "liquidity providers". With Mate you can earn rewards for contributing your tokens to liquidity pools. You receive APYs (annual percental yields) for adding liquidity to token pairs in our farms.
The liquidity provider for Mate is PancakeSwap so you'll need to open PancakeSwap to get your LP tokens to stake on Mate. Don't worry, it's easier than it sounds! Let's get to it.
To begin, open the "Farming" tab in the Mate app, then choose a farm to add liquidity to. Mate currently has farms for the following token pairs: ORK-BNB, MATE-BNB, ORK -USDT and MATE-USDT.
We'll choose MATE-USDT here. Click the "GET MATE-USDT LP" button, to go to PancakeSwap where you'll be able to get LP tokens.
Once on PancakeSwap, enter your $MATE and $USDT token amounts.

Next, click "Enable MATE".

Click "Confirm" on the MetaMask notification.

Click "Supply" to add liquidity to the token pair. Review the transaction details in the window and click "Confirm Supply" to complete the transaction.


Hit "Confirm" on the MetaMask notification and then click "Add Cake-LP to MetaMask" in the pop-up to add the LP tokens to your wallet.


Now that we've added liquidity to the token pair through PancakeSwap, we're ready to stake.

Click "STAKE" in the farm window to continue.
Click "Confirm" on the two MetaMask notifications to complete the transaction.

Congratulations! You have officially staked your first MATE-USDT LP token in the Mate liquidity pool! Time for tea and biscuits!
Harvest $MATE
You can view the $MATE you're earning in the farm tab. The longer you let your LP tokens sit in the farms, the more $MATE you'll earn.
When you're ready to reap your rewards, hit the "HARVEST" button to receive your earned $MATE and enjoy the fruits of your labor.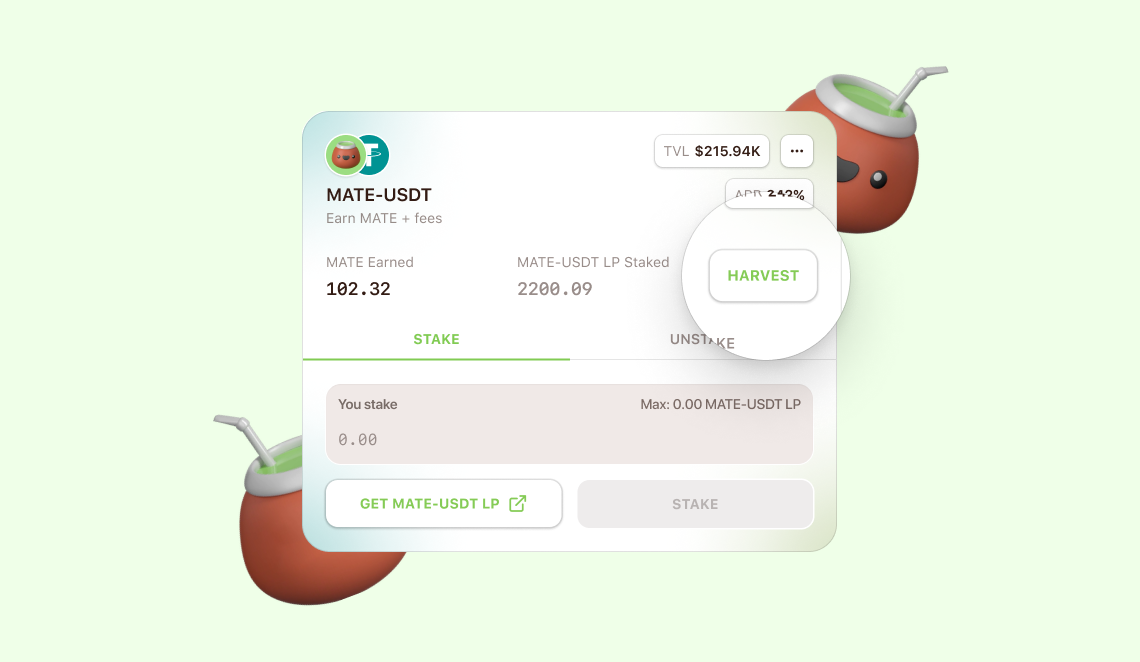 🧉 About Mate
MATE is a DEX ( decentralized exchange) that makes it easy to place limit orders on any BSC (Binance Smart Chain) token (BEP20) without the risks of unpredictable slippage, so you can feel confident in every order, every time.
Want to learn more?